Great Facts About Gutters Guards
Many homeowners despise stepping up on a ladder to clear their gutters, and they despise the idea of paying someone else to do it for them. Gutter guards were created to keep leaves out of gutter systems that permit water in but not out. Gutter guards, according to most experts, do not provide complete protection against all debris that can litter and obstruct gutters. You shouldn't buy gutter guards thinking you'll never have to clean your downspouts again. They don't make your gutters indestructible or miraculously resistant to the debris that accumulates throughout the year.
For any homeowner with deciduous trees, cleaning leaves from gutters is an annual chore. If you're fortunate enough to have evergreen trees, cleaning the leaves from your gutters is a year-round task. Even if you don't live in a high leaf/high needle zone, particles from composite shingles, twigs, and dirt will slowly build up in your gutters.
Gutter guards, on the other hand, have been shown to reduce gutter cleaning frequency. If you install a gutter guard correctly, that will be be able to help you reduce the number of times you have to clean your gutters.
Taking a look through your gutters is a smart idea, especially in the autumn when leaves are falling. In the winter, you'll also want to make sure that snow and ice don't clog your gutters. Depending on the flora surrounding your home, spring and summer might bring their own set of challenges.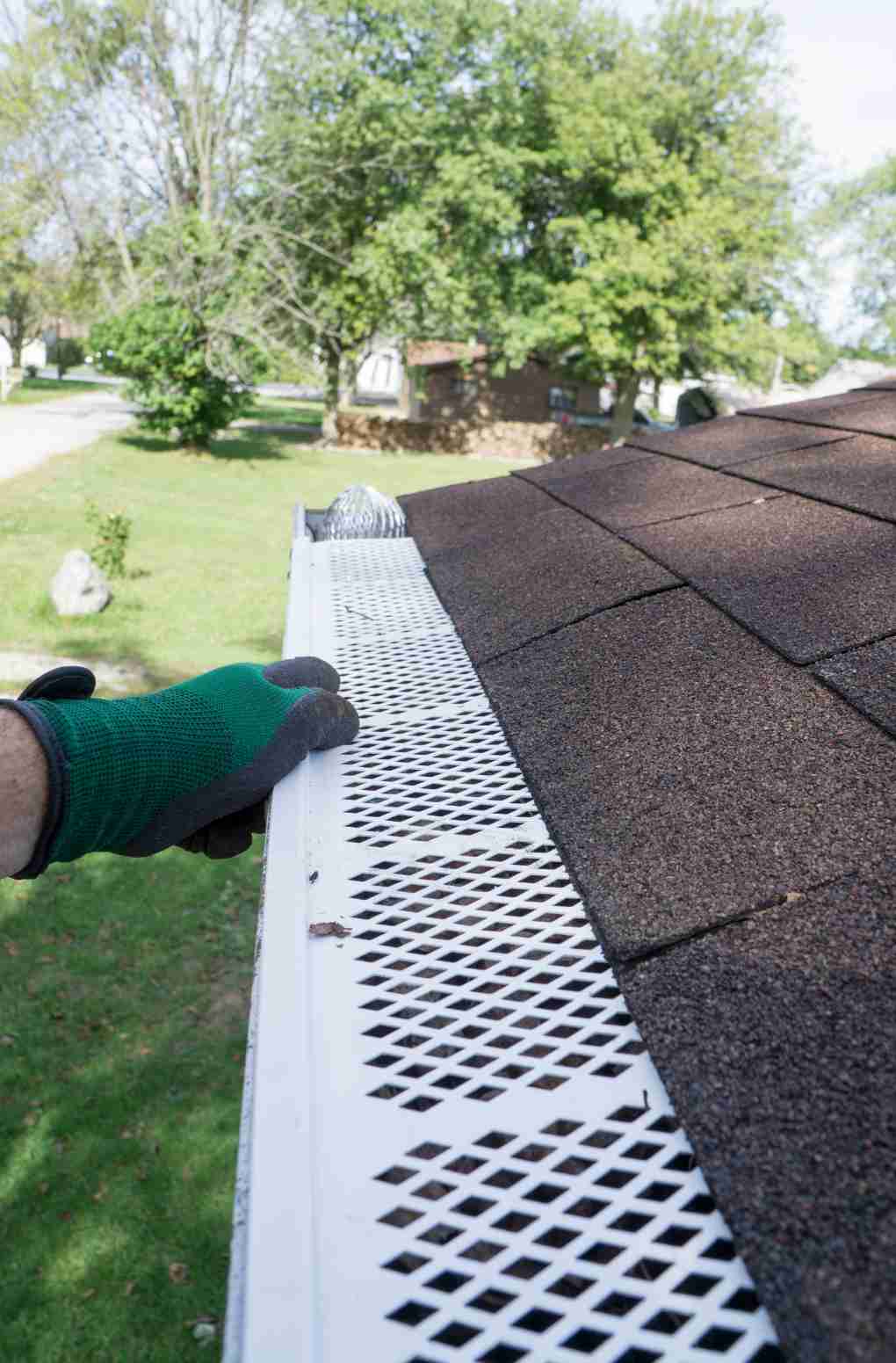 Don't know which gutter guard will best fit your home?
Let's have a look at the many types of gutter guard
Non-gutter coverings
Non-gutter coverings are a collection of thin louvers that replace your gutters and redirect rain off the roof. These covers have the appearance of window blinds. They can replace gutters with very thin aluminum louvers that guide or channel water away from your roof, thanks to their design. Rain or melted ice hits the louvers, diverting it away from the roof and your home. This sort of gutter guard is ideal for homeowners who don't want their gutters and downspouts to be visible from the outside of their home. Louvered gutter guards are another name for them.
Nylon gutter guards
Nylon gutter guards are very effective in preventing snow and ice accumulation in the winter. They may be made to fit into your gutter without having to be attached to the shingles. Roofing shingles are not fastened to nylon gutter guards. They have a design that allows them to readily slide into gutters. They're perfect for preventing ice and snow from accumulating in gutters. They give the water in the gutter greater room to flow through. During the winter, nylon gutter guards are the most practical.
Mesh gutter guards
Mesh gutter guards are sheets that cover the gutter and attach to the roof shingles and are filled with holes. Smaller holes are preferable to larger holes because they are less likely to clog. Smaller holes sift out the particles while allowing water to fall into the gutter.
These screens are designed to fit over existing gutters. Water goes through the screen's wide holes, but leaves and particles filter out or float to the top. The wind may blow the leaves and debris away in some circumstances.
Most do-it-yourselfers will have little trouble installing these guards. Short portions slide into place on the gutters' lip.  This product is easily accessible and relatively inexpensive. Leaves accumulate on top of the screen, and tiny particles pass through the big holes in the mesh into the gutter. These particles will either travel through the downspouts or must be manually removed.
Gutter brush gutter guards
Gutter brush gutter guards are comparable to the pokey bristles used to keep birds from landing on monuments. The bristles are positioned upright to allow dirt to settle on top while water runs into the downspout.
Gutter Brushes, like foam types, fill the gutter hollow. The bristles are easily penetrated by water. The goal is to enable some trash to degrade within the bristles. Larger debris will be blown away or handled manually. Gutter Brush is inexpensive and simple to install. However, You won't be able to clean all of the particles out of the brushes.
Foam gutter guard
The foam gutter guard is the last form of gutter guard. It is composed of plastic and fits directly into the gutter. It's designed to keep all of the debris from the roof from falling into the gutter. Foam-filler guards are made of a porous polyurethane material that fits exactly into the gutter to prevent all materials from entering and collecting in the gutter (except liquids). They aid in the prevention of mold, mildew, and fungal growth in the gutter.
Reverse Curve
The reverse curve encourages leaves to fall to the ground while directing water downward into the gutter through a tiny slot. Reverse Curve Gutter Guards are one of the most popular guards on the market today. These gutter guards are constructed with a curved metal or plastic covering that is fitted over your existing gutters. A Reverse Curve guard's rounded hood provides surface tension, guiding rainfall downward and through the aperture. The debris will fall out the edge of your gutters and onto the ground as a result.
Because Reverse Curve Gutter Guards are more complex than other guards, they usually come with a warranty after installation.  Water naturally flows off, causing debris to fall off your gutter rather than sit on top of the guard. Water is drawn into your gutter by the reversed curve, while heavy debris is kept out.
Since this requires professional installation, the Reverse Curve guard is one of the more expensive guards.  These guards are visible from the ground and might interfere from the curb appeal of a home.  Smaller waste, such as pine needles and saplings, can fall through the hood's hole, whereas heavier debris falls directly off the roof.  Bees and other pests have been known to fly into the hole and make nests there.
EcoShield Roofing specializes in roof replacements and repair for metal and shingle roofs. We are a roofing business with all the correct credentials and the required local and state licenses to get your job done right. 
We also offer roof repair and gutter installation to ensure that your roof continues to work properly for years to come. To get started on your new roof, schedule a free estimate now!